COMPLETE EDGAR SERVICES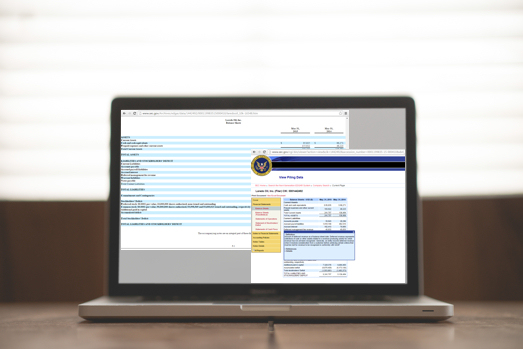 As a publicly reporting company, you are required by the SEC (Securities and Exchange Commission) to submit your regulatory filings electronically through the EDGAR (Electronic Data-Gathering, Analysis and Retrieval) system. Our knowledgeable EDGAR filing services team has over a decade of experience, having prepared and filed thousands of regulatory filings with the SEC. You will have the comfort of working with a dedicated account manager who will guide you through the filing process. We can file any form type of any size that is required to be filed on the EDGAR system. Below is just a sampling of the form types that we regularly file with the SEC:
Annual and Quarterly Reports: 10-Q & 10-K
Current Reports: 8-K
Proxy Statements: PRE/DEF 14A & PRE/DEF 14C
Registration Statements: S-1, S-3, S-4, S-8 & S-11
Prospectus: 424B3, 424B4 & 424B5
Regulation A: 1-A, 1-Z, 1-K, 1-SA & 1-U
Foreign Issuers: 20-F, 40-F & 6-K
Ownership Reports: 3, 4, 5 & SC 13D/G
Have questions? Contact us today!
KNOWLEDGEABLE iXBRL SERVICES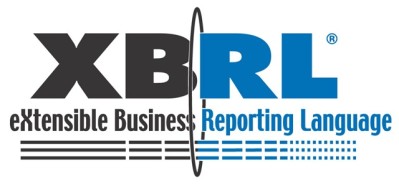 Inline XBRL is a structured data language that allows filers to prepare a single document that is both human-readable and machine-readable, so that filers need only prepare one Inline XBRL document rather than generate an HTML document of their financial statement information or risk/return summary information and then tag a copy of the data to create a separate XBRL exhibit.
For data users, Inline XBRL provides an easier way to view, access, and explore the contextual information of the underlying data. For example, users can click on individual tagged data points in the filing to find more information about the data, such as citations and hyperlinks to the relevant accounting guidance, narrative definitions for the values, and reporting period information associated with each value.
Our team has the knowledge and experience to prepare your iXBRL quickly and accurately.
Have questions? Contact us today!
THE FILING PROCESS FROM START TO FINISH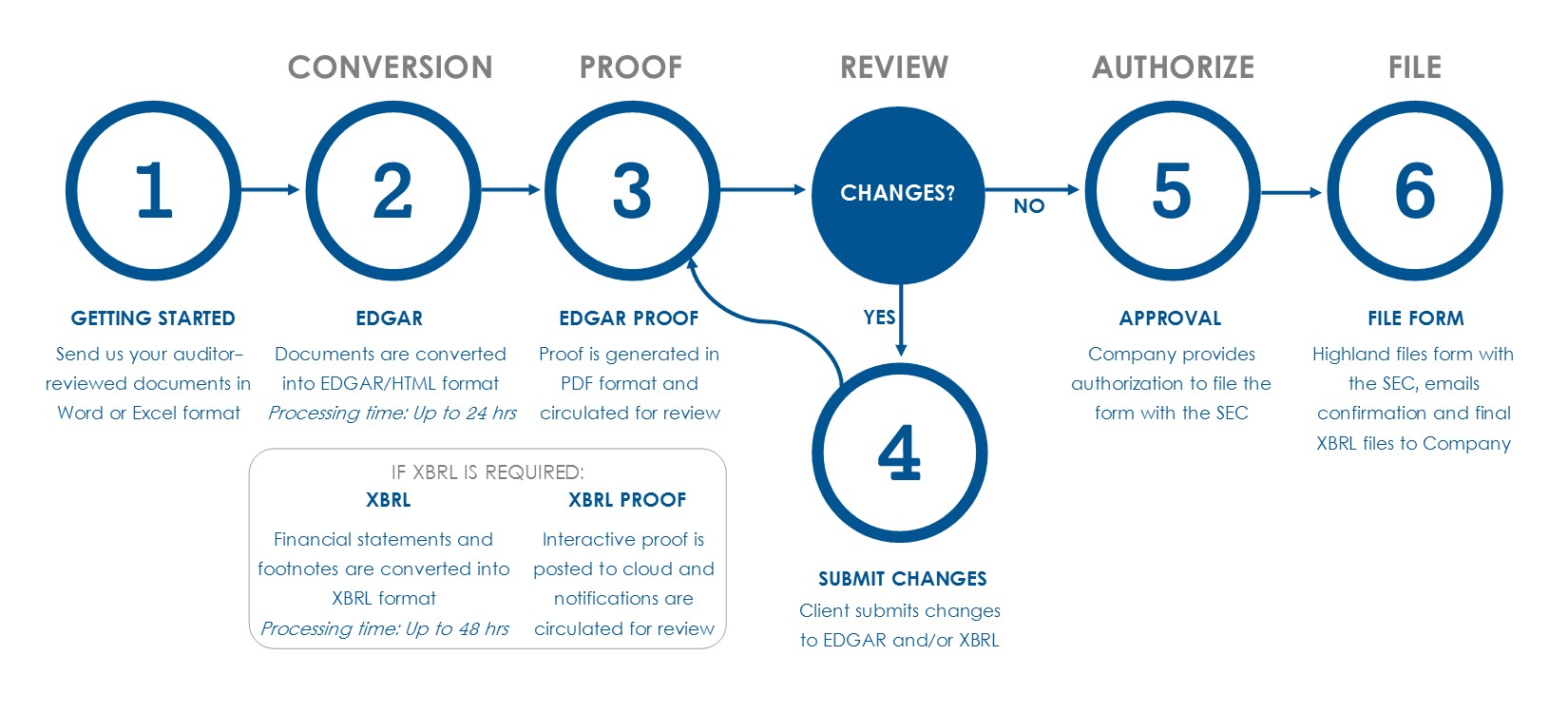 If you haven't filed before, you will need to receive filing codes from the SEC. Every filer needs a CIK code (which identifies the filer) and a CCC code (for security). A Form ID will need to be completed, notarized, and submitted to the SEC. Highland can assist you in obtaining these codes.
We typically receive the documents in Word and Excel format. We also accept PDFs for certain filings. We'll send you a proof of the converted document so you can verify the layout, formatting and content before it is filed. Once you've approved, we will do a test file first with the SEC to make sure it will be accepted before the live file is sent. We will e-mail you the confirmation once the filing has been accepted by the SEC. Also, to make your next filing even easier, we can send you back your old converted document in Word format so you can use it as a template next time.
Have questions? Contact us today!
DOWNLOAD OUR 2023 FILING CALENDAR
Our printable calendar of filing deadlines and SEC holidays is a valuable resource to help keep you on track for your reporting requirements.
Have questions? Contact us today!
Frequently Asked Questions
COMMONLY USED FORMS